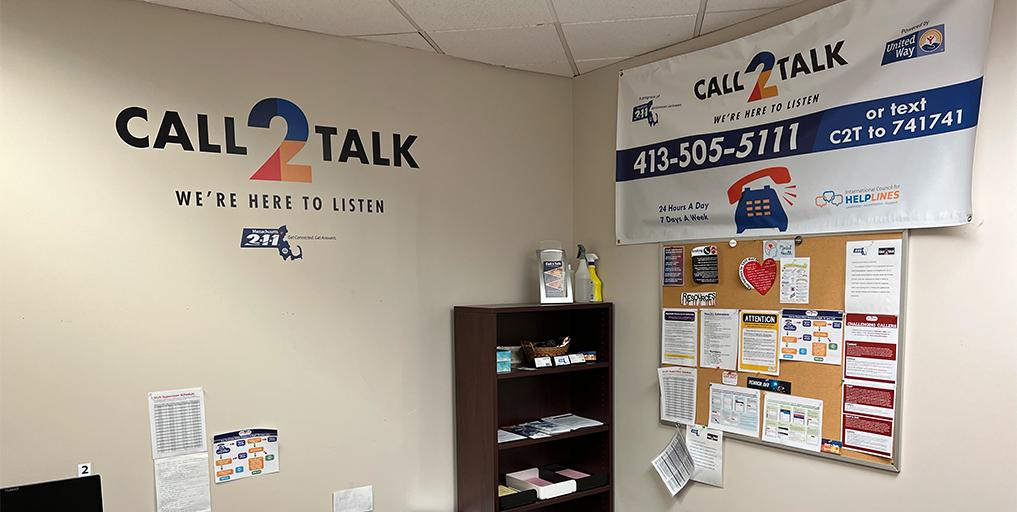 Call2Talk In Need of More Call Takers
July 6, 2023
SPRINGFIELD, MA (WGGB/WSHM) - Nearly one year ago, the National Suicide Prevention Lifeline switched from a ten-digit number to 988 to serve as a way to make resources more accessible for people in crisis and those who may just need to talk. Since then, thousands of people have been helped.
"To me, it means a lot to be able to provide a space where people feel that they can share some of their deepest secrets or they can share their everyday life. It means just being that one person someone talks to in a day and just providing a positive space for them," said Sidney Brady, site supervisor for Springfield Call 2 Talk.
On Thursday, Brady shared her experience as a call taker for Call 2 Talk in Springfield, the mental health hotline for Mass211. It's one of the centers that takes calls dialed into the National Suicide Prevention Lifeline. Nearly one year ago, a new three-digit number was launched for the lifeline that people can call or text.
"988 is just so quick and easy to remember," said Eileen Davis, vice president of Mass211 and director of Call 2 Talk.
Since then, Davis told Western Mass News that call takers in both their Springfield and Framingham centers have been busy serving people needing a safe space to talk.
"The demand has pretty much doubled between all of our local lines and 988…We've gone from 988 probably responding to 100, 150 calls a day to almost 300, 400 calls in any given day, so volume has definitely increased. 988 is probably one-third of that," Davis explained.
However, she doesn't credit the uptick to just the simple phone number.
"We live in sort of very uncertain times. There are a lot of, even if you're not impacted directly…the political scene, international scene, gun violence, a lot of the laws that have been overturned recently, it causes a lot of unrest," Davis added.
As call volume grows, they're looking to bring in more call takers to be on standby for these times of crisis.
"Even if it feels scary calling for them, it feels really intimidating calling here sometimes. This is a resource where we will do our best to help you accommodate you as best as you can," Brady added.
If there's anything that Davis and Brady wanted people to get out of the conversation on Wednesday, it's that you're not alone and there are resources available.
Categories: News